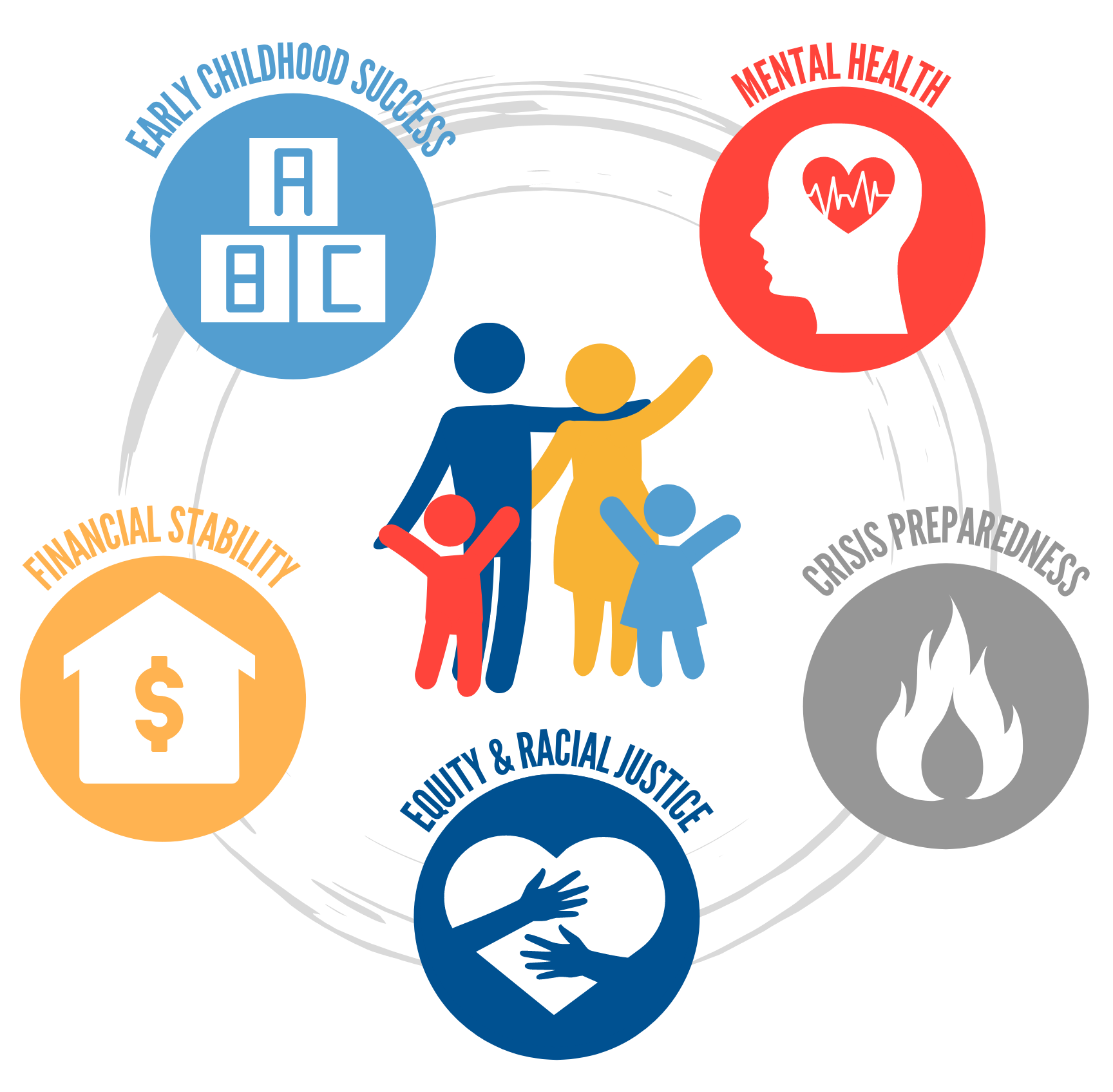 When you donate to Acton-Boxborough United Way, your dollars work harder to bring critical services to our community.  By pooling your donations, we can make significant grants to organizations, attracting the quality services necessary for all residents to belong and thrive as the need for support is dramatically increasing.  
Our funded partners for the 2023-2024 grant cycle are 25 organizations that equitably, effectively, and sustainably drive progress on our 5 Thrive Impact Focus Areas: Mental Health, Early Childhood Success, Equity & Racial Justice, Financial Stability, and Crisis Preparedness.
Spring 2023 Grant Cycle
Acton-Boxborough United Way invests in effective strategies to meet the basic needs of our neighbors. This year, our targeted grant-making will strive to bring innovative services to our towns to address key issues for each of our strategic priority areas:  financial stability, early childhood success, mental health, and equity & racial justice.
We have two tracks of funding for this year's grant cycle: Targeted Priority Initiative Grants (an open application) and Legacy Grants (restricted to previously funded programs): 
Targeted Priority Initiative Grants 
For this track, open to any nonprofit currently or planning to serve residents from Acton and Boxborough, grant applications should address one of these key strategic priority areas:
Financial Stability: 

Advancing financial stability and economic mobility, especially programs focused on food security, job readiness, distributing clothing and household necessities, or providing help in navigating and applying for public benefits.
Early Childhood Success: 

Creating safe, accessible places for children to play and learn
Mental Health: 

Culturally-relevant mental health outreach and/or programming
Equity & Racial Justice: 

Engaging Renters. Recognizing that over 28% of our community rents their homes, and that historically these residents have been overlooked, we seek to fund initiatives that target communication and help accessing local resources and initiatives for renters in Acton and Boxborough.
We invite new and existing programs to apply for up to $5,000.  Larger scale, collaborative projects that are seeking more than $5,000 will also be considered, if the funding request is justified by the impact of the project.
PRIORITY INITIATIVE GRANT APPLICATION
Legacy Grants
Recognizing that funding from Acton-Boxborough United Way provides critical support to a powerful patchwork of local agencies supporting our neighbors, agencies funded within the last 2 years, serving Acton and Boxborough residents may apply for a Legacy Grant of up to $15,000 for services that fall within one of our 5 broad Thrive2024 focus areas: Financial Stability, Early Childhood Success, Mental Health, Crisis Preparedness and Equity & Racial Justice. 
---

Eligibility
Acton-Boxborough United Way funds services for Acton and Boxborough residents. We will accept grant applications from programs that are located outside these two towns, if clients served are from Acton or Boxborough.
Selection Process
Applications are due March 17, 2023. Grant cycle is July 2023 - June 2024. 
Acton-Boxborough United Way's Grant Allocations Team will select grant recipients and determine funding amounts, within an overall budget approved by the Board of Directors. The process will include a group interview (20-30 minutes via Zoom), to allow applicants to present their organization and answer questions.  The Interview Team will include community members and will reflect the diversity of Acton and Boxborough.  Please note that funding is limited, and it is unlikely that all grant requests will be funded.
Proposal Format
The grant application form should be submitted by Google Form [Targeted Priority Initiative Grants, Legacy Grants]. If you're unable to access or complete the application in this format, please email Katie at kneville@abuw.org, and we can provide you a document version.  
Reporting Requirements
A mid-year report will be required.
---
For more information or to discuss a project idea, please contact
Katie Neville at kneville@abuw.org