Acton, Boxborough?  Are you listening?  We have a community problem.
We like to believe and we tell ourselves stories that we are a welcoming community for newcomers.  We like to believe and we tell ourselves stories that we are a caring community for our long-term residents.  We desperately and fiercely want to believe the stories that we tell ourselves about our community.  But clearly, we have a problem.
On January 7, 2021, for the second time within a month, an anonymous coward attacked the two Black women who serve our community on the Acton-Boxborough Regional School Committee.
Whoever did this may have thought it a prank, or may have had more malicious intent.  We don't know.  We don't really care why they did this.
We are tired of this.  We are angry about this.  We are disappointed in individuals who bring this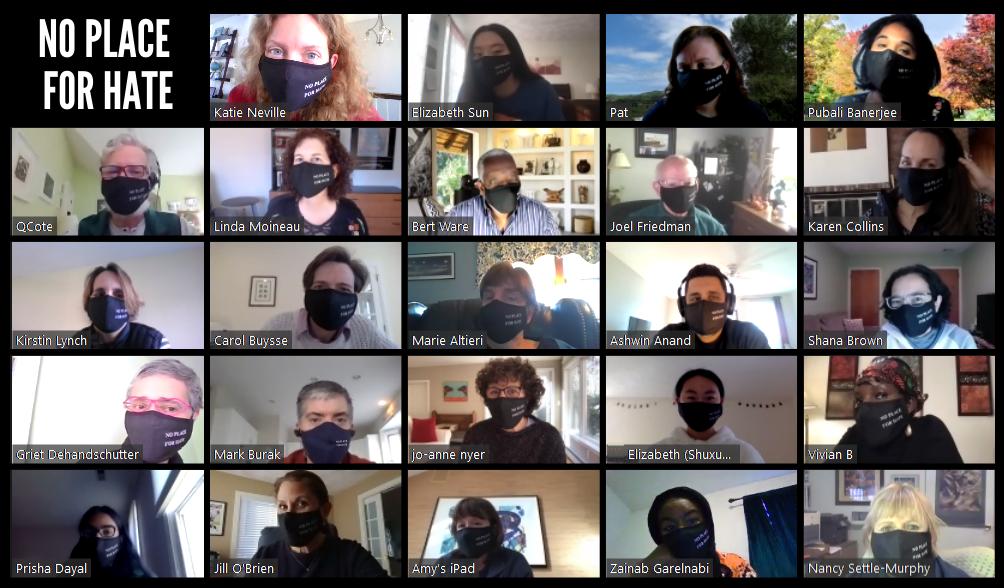 bigoted, racist, and hateful behavior to the community where we live.  We have always known, and on occasion, witnessed that it lurks in the shadows here in our towns.  Lately, we have seen it creep out from those shadows because they think that there are no consequences.  That there will be no repercussions.
So again, we find ourselves standing with Kyra Wilson-Cooke and with Evelyn Abaayah-Issah, because we are all neighbors, because we all look out for one another.
What can we do to try to address this problem?
Think about it this way.  Each of us has a sphere of influence – people and things that we can affect immediately around us.  
Each member of our community – especially our white neighbors – must step up to help solve our community problem.
Black people, brown people, and other people of color have always been burdened with figuring out what to do. Our neighbors of color have always done the hard, continuing, never-ending work to address this sort of problem.  
For now, the call to action primarily falls on our white neighbors.
When you see or hear behavior that reflects hatred, bigotry, or racism, call it out.  Say something.  Do something.  Make clear to anyone who engages in this behavior, whether you have power or influence over them or not, that what they are doing is wrong and will not be tolerated.
For many of us – especially white neighbors – it means summoning up the courage to stand up and speak out to make clear that hatred, bigotry, and racism is completely unacceptable and will not be tolerated in the public square, in our houses of worship, in our schools, in our stores and offices, behind closed doors, or even at the dining room table. This needs to be called out, whether or not any person of color is within earshot or nearby.  We need to stand up for each other.
Too often, we want to do the right thing, but we are worried that we will get it wrong. We feel paralyzed.  What we believe is that action invigorates and moves us forward. 
We want to be allies - the type of people who take intentional, positive, and conscious action to support the targets of hateful attacks. We want to support Ms. Wilson-Cooke and Ms. Abaayah-Issah. 
Yes, we are going to stumble, but what matters is getting back up. We need to keep mustering the energy to try again.  It is uncomfortable work.  We need to dare to initiate awkward conversations.  We miss an opportunity every time we stay silent. The work takes listening with patience and empathy, creating an environment where we can have dialogue even in circumstances that leave us uncomfortable.  The work means asking questions from the perspective of genuine, empathetic, and inquisitive learning, respecting answers, being open to fresh perspectives, and, most importantly, appreciating one another's contributions to our community.
Together, we need to redefine the stories we tell ourselves about our community.  The stories control what we see in our community and how we interact with one another.  The story we need to create and begin to live is the story of belonging.
The individual who attacked our neighbors thought that it would be safe to do so and that there would be no consequences for what they did. That individual is mistaken.  The School Committee has referred the matter to law enforcement for investigation and criminal prosecution. 
We urge our town and all of our community leaders to continue to demonstrate resolute commitment to not only racial justice but also to basic human decency in our community. 
We all need to commit wholeheartedly to being intolerant of intolerance.
The past week has shown us that we all have a tremendous amount of work to do.  It's time we got started.  Let's get to work. 
Signed,
The Board and staff of Acton-Boxborough United Way
Karen Collins, Griet Dehandschutter, Marie Altieri, Ashwin Anand, Pubali Banerjee, Vivian Kobusingye Birchall, Shana Brown, Mark Burak, Carol Buysse, Amy Cerel, Quentin Cote, Karen Collins, Prisha Dayal, Pat Easterly, Joel Friedman, Zainab Garelnabi, Elizabeth (Shuxuan) Li, Kirstin Lynch, Linda Moineau, Katie Neville, Jo-Anne Nyer, Jill O'Brien, Martha Papalia, Janis Raguin, Elizabeth Sun and Bert Ware